Maintenance Tips:
Taber Grit Feeder
Tests using the Taber Grit Feeder Attachment typically require the S-39 leather clad wheels. The minimum allowable diameter of the leather wheels is 1 13/16". If worn beyond this diameter, wheels must be replaced.
If the desired weight loss is not obtained after following the calibrating instructions, check the following parameters (grit feed rate, path of grit; removal of grit; condition of leather on S-39 wheels; free rotation of wheel bearings; specimen slippage; static charge effects; humidity control; operator error). If no apparent cause can be determined, the grit agitator may be worn and require servicing. Alternatively, either your Taber Abraser or Grit Feeder may be in need of calibration.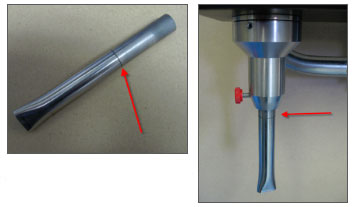 The Grit Feeder Distributor Tube (nozzle) and Vacuum Pick-up Nozzle must be examined periodically for wear and replaced as needed.
If you are unable to slide the Grit Feeder under the Abraser, one or more of the rubber feet may be worn. A simple modification would be to remove the rubber feet, place a washer on top each rubber foot, then reassemble.
Care should be taken when adjusting or replacing the Distributor Tube (nozzle). If the nozzle is pushed up too far, it can contact the bottom of the rotor and cause damage. To minimize this, Taber now supplies all Distributor Tubes with a scribe line. Do NOT insert the distributor tube into the instrument beyond the scribe line.

The nature of this test subjects the vacuum unit to a great deal of abrasive grit. Given the destructive power of this grit, the vacuum may become damaged. As a means to protect the vacuum motor and to reduce the need to empty the vacuum bag frequently, a commercially available system such as Oneida Air Systems - Dust Deputy® can help extend the life of your vacuum and filters. When installed, the Dust Deputy separates the abrasive grit particles and debris generated while testing before it reaches the vacuum. Alternatively, a water trap may be constructed. A tight seal is not required between the container and the lid. Also, the inlet pipe to the water trap should be far enough away from the water surface that undue turbulence is avoided and water does not enter the exhaust line.