Reciprocating Abraser
The TABER® Reciprocating Abraser - Model 5900 is a test apparatus similar to the instrument described in test method ISO 1518. Ideal for flat surfaces, this tester can be configured with optional attachments to evaluate the relative resistance or susceptibility of a material surface to physical damage. Utilizing scratch styli (sold separately), the Taber Reciprocating Abraser allows you to perform single or multiple pass scratch, marring, gouging, scrape, and other similar physical damage.
Click here for information on abrasion testing with the Reciprocating Abraser.
---
Description
The Taber Reciprocating Abraser includes a counterbalanced arm which pivots on an adjustable height gantry system. The counterweight allows the user to balance the test arm, ensuring precise test load set-up regardless of the weight of the attachment. Incorporated at the end of the arm is a tool holder to which optional attachments and weights may be secured. A sliding specimen platform moves in a horizontal, reciprocating motion under the stationary tool holder.
Test parameters such as stroke length (6 - 155mm), speed (3 - 75 cycles per minute) and load (1N - 24N maximum, with included weights of 1N, 2N, 2.5N, 5N, 10N & 24N) are adjustable so optimal settings for each material can be established.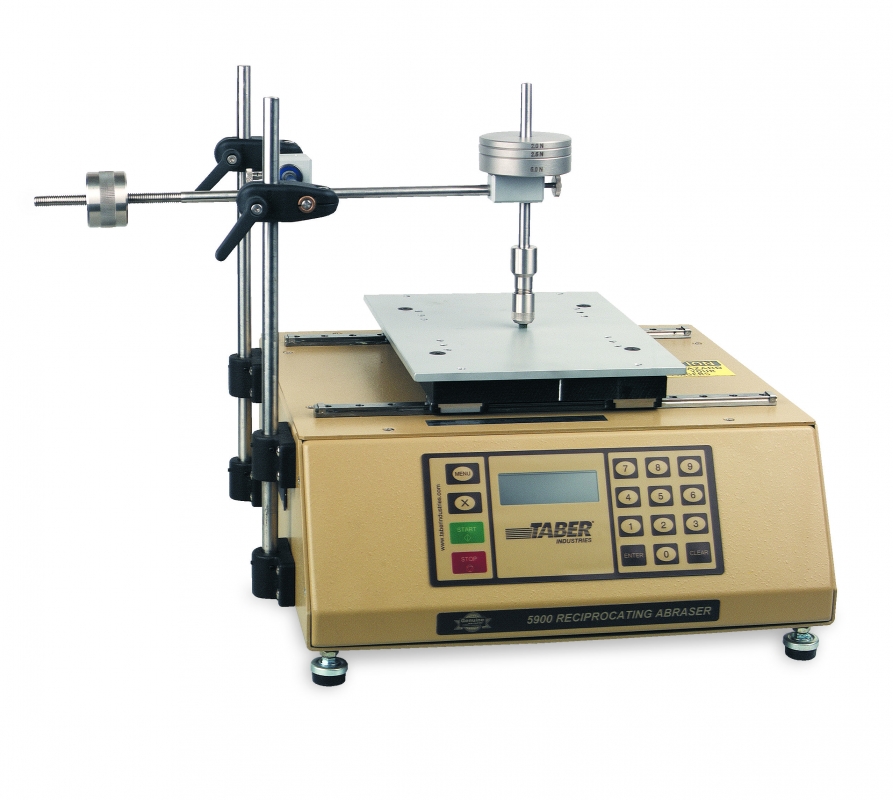 To expand test loads, an optional weight support may be affixed to the top of the tool holder. This permits using auxiliary weight discs in place of the standard weights supplied with the instrument. Weight discs are sold individually and available as 10g, 20g, 50g, 75g, 100g, 150g or 250g.
The standard specimen table provided with the Reciprocating Abraser is 216mm x 278mm (8.5" x 11") with drilled tapped holes to accommodate specimen clamps or optional specimen fixing plates. To evaluate most flat specimens, specimen clamps or the optional Wide Slot Fixing Plate may be suitable. Products with a slight contour can also be secured in place using the specimen clamps provided or a custom fixture.
The Reciprocating Abraser can accommodate two additional test arm kits (sold separately), permitting up to three tests to be performed simultaneously.
---
Scratch / Mar Attachments
For information on Scratch / Mar Attachments for the Reciprocating Abraser, click here.
---
Evaluation
Depending on the type of material under evaluation, the visual appearance of a scratch or mar normally involves changes in surface topography, color, or brightness. Three methods are normally used:
Visual Evaluation - Scratch resistance is normally reported as the minimum load necessary to penetrate the surface of the specimen. The observer increases (decreases) the testing load until the point when a visible line is scratched on the specimen surface. This line should penetrate the surface and not be able to be wiped off. It is also possible to rank scratches based on an existing standard. A standard numeric rating representing 3 to 5 increasing scratches (or what constitutes a Pass / Fail) may be established for each type of material and used solely for comparison to determine test end point.
Width/Depth - Use a magnifier to measure the width of the scratch lines. Alternatively, an Optical Micrometer may be used to measure the depth of scratch.
Image Analysis - Another option would be to use an Image Analysis technique such as SEM.
Detailed descriptions are recommended when depicting scratch or mar damage. Items that might be described include surface topography, material deformation, material removal, and color changes. The following examples have been used to describe damage in plastics:
scratch is shallow (or deep)
scratch is smooth, with a well defined shape (or rough and deformed)
scratch includes plastic flow of the material (or cutting, tearing, cracking, chipping, crazing)
scratch includes visible ripple marks at the bottom (i.e. chevron or parabolic shaped)
strain whitening is visible (or no change in color)
NOTE: The properties of plastic materials can greatly influence the evaluation of scratch and mar resistance. It is important to be aware of the following factors and take them into consideration. For reproducible results, define if evaluation should occur immediately following the scratch test or after a specified amount of time (e.g. 24 hours).
Many plastics have elastic recovery upon removal of applied stress.
Many plastics have visco-elastic properties and the stresses in the plastics may relax during loading.

Plastics may change structure during material flow, which can also change the mechanical properties of plastics.